Внешний вид товара и упаковки может отличаться от представленного образца
Содержание
A1
Les Histoires D'A.

Acoustic Guitar, Bass – Tony ViscontiDrums – Graham WardGuitar, Keyboards – Fred ChichinGuitar, Keyboards, Vocals – Catherine RingerViolin – Bobby Valentino

4:04
A2
Andy

Double Bass [Contre-bass] – Tony ViscontiKeyboards, Brass [Midi], Guitar, Vocals – Catherine RingerKeyboards, Guitar, Bass, Drums, Vocals – Fred Chichin

5:30
A3
C'Est Comme Ça

Guitar, Bass, Vocals – Catherine RingerGuitar, Drums – Fred ChichinSoloist, Guitar – Sam SmithTambourine – Tony Visconti

4:41
A4
Vol De Nuit

Guitar [Midi] – Tony ViscontiGuitar, Bass, Drums – Fred ChichinStrings, Vocals – Catherine Ringer

4:12
A5
Someone To Love

Bass, Guitar, Drums – Fred ChichinDrums – Tony ViscontiKeyboards, Drums, Vocals – Catherine Ringer

3:04
B1
Stupid Anyway

Guitar, Bass, Drums – Fred ChichinTrumpet [Midi], Accordion [Midi], Vocals – Catherine Ringer

4:45
B2
Un Soir Un Chien

Guitar, Bass, Drums – Fred ChichinPiano, Violin, Cello, Congas, Vocals – Catherine RingerViolin, Cello – Tony Visconti

5:44
B3
Bad Days

Acoustic Guitar, Bass, Drums – Fred ChichinKeyboards, Guitar, Vocals – Catherine Ringer

5:03
B4
Tonite

Bass, Drums, Guitar – Fred ChichinKeyboards, Vocals – Catherine RingerViolin – Bobby Valentino

5:11
B5
Nuit D'Ivresse

Arranged By – Ringer*, Chichin*, Visconti*Bass, Drums – Fred ChichinGuitar, Vocals – Catherine RingerPercussion – Luis Jardine*Saxophone [Brass Section] – Andy MackintoshTrombone [Brass Section] – Pete BeachillTrumpet [Brass Section] – Guy Barker

3:43
Заметки
Recorded at Studio Rita Mitsouko and Studio Garage in Paris and Studio Good Earth in London.
Mixed at Good Earth by "The No Comprendo".

℗ 1986 Virgin France SA
© 1986 Virgin France SA
Printed in Western Germany by TOPAC, Gesellschaft für Tonträger-Verpackung mbH, Gütersloh.
Imprimé en Republique Fédérale d'Allemagne.

Inner sleeve with lyrics.
Другие пластинки этого исполнителя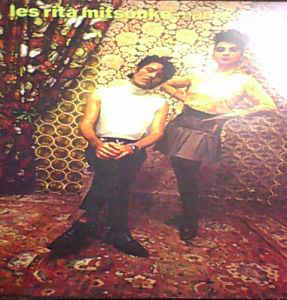 SYNTH-POP
Другие пластинки этого жанра